SmartPOS is an application designed to operate at the point of sale. Its simple design does not require too much computer knowledge.
The application supports work on standard computer screens, but it achieves full functionality and speed only in combination with touchscreens (monitors with touchscreen modules).
SmartPOS users will deal with all customer demands as quickly as possible, issue an R1 invoice or a transfer order, approve consumption without charge (representation), transfer the consumption from one table to another, take partial or full care of the invoicing, give orders to the chef, etc. You can add items to your meal and beverage, pick a variety of choices from the menu or the daily specials, and if there is something in the system that you haven't defined, don't worry – with SmartPOS you can even send the chef the orders that you wrote on the screen with your finger!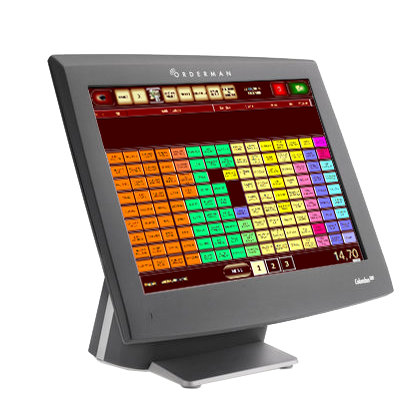 possibility of independent work of every point of sale in the event of failure (server failure or in case one of the crosslinked registers fails, it wouldn't cause a jam in all the registers)
option to save the data base (BACKUP)
a detailed specification of employee authority: each function of the program can be put off-limits or at the disposal of each of your employees, allowing you complete control
option to arbitrarily define function keys – these can be either shortcuts to the most frequently used functions or some specific operations
option to define hot keys on 4 levels with the maximum of 135 items each in optional colors
option to define favorites – frequently used items
item image display on the menu and in favorites
option to choose font size for menu items and hot keys
option to choose the number of printed invoices, transfer orders, consumptions and representations, credit cards, advances and orders for each item
possibility of countdown to new operator login in case of inactivity – automatic register lockdown when the operator is absent
support for contactless (RFID) and magnetic cards for employee login and for the customer loyalty program
support for direct communication with certain types of scales
remote printing of orders (printers that are located away from the point of sale – kitchen, grill, separate bars...)
possibility to define different printing of orders for each of the printers
option to define header and footer of the invoice for various messages ( Wi-Fi passwords, promotional messages, etc.)
possibility of adding messages as notes to items
support for printing pre-defined frequently used messages or hand-written messages on printers for orders (e.g. sending special messages to the kitchen)
operation by tables and the graphic layout of the premises
happy hour support at a defined price or percentage (with the possibility of detailed planing in advance with the SmartOffice application)
discount support (with a possibility of detailed planning in advance with the SmartOffice application)
option to give discounts in percentages based on items or total amount
support for open price items
support fot the HALF-and-HALF payment of items (pizzas)
combination of different types of payment
option of paying only certain items (when each guest wants to pay separately, but they ordered together)
possibility to connect with EFT POS terminals for automated card billing
possibility to connect with hotel solutions for a centralized record of the expenses of each guest room and the subsequent calculation
possibility to choose and edit R1 customer data
support for the loyalty point system for customers (detailed records, activation of options and prices is managed through the SmartOffice application)
complete support for tracking delivery: connection with the telephone central and direct support for access to calls and database of customers through the application's interface
overview of old invoices, control strip printing, possibility of a cumulative calculation for a defined period of time
possibility of calculating each waiter in particular (input of financial amount)
possibility of upgrading to the latest version of the program with its new functions